These free multi-week programs will support you to develop skills to care for nature in your community, including growing native plants, restoring wildlife habitat, and working with plant medicines.
Location
Strathcona Community Gardens (759 Malkin St) and Renfrew Ravine (3998 Renfrew St)

Summer Program Dates

All programs run from 10:30 AM to 2:30 PM

Plants & People I | June 10 - Aug 15 | June Saturdays, July & Aug Tuesdays | 10 Sessions


Earth Allies | June 18 - Aug 18 | June Sundays, July & Aug Wednesday - Fridays | 24 Sessions


Rewilding I | June 18 - Aug 18 | June Sundays, July & Aug Fridays | 10 Sessions


Rewilding II | July 4 - July 20 | Tuesday - Thursday | 9 Sessions


Plants & People II | Aug 8 - 18 | Tuesday - Friday | 8 Sessions

Eligibility
Youth ages 14-18 who identify as Indigenous, Black, People of Colour, LGBTQ2S+, living with a disability, or from other equity-deserving communities.

Supports
You will receive up to $20/day honorarium based on attendance. Lunch and bus tickets are provided. We also have some outdoor clothing available to borrow, including rain jackets and boots.
Frequently Asked Questions
Youth participants learn to grow and care for native plants in EYA's nursery.
A group of Nature Stewards youth in Strathcona Community Gardens.
Youth participants learn to make salves and teas from medicinal plants.
Youth participants help to restore wildlife habitat at Renfrew Ravine.
Youth participants help to remove invasive plants like Himalayan blackberry.
"I am able to recognize more plants and birds, which makes me feel more connected with nature. Being able to understand nature more makes me more likely to take care of and consider the environment around me."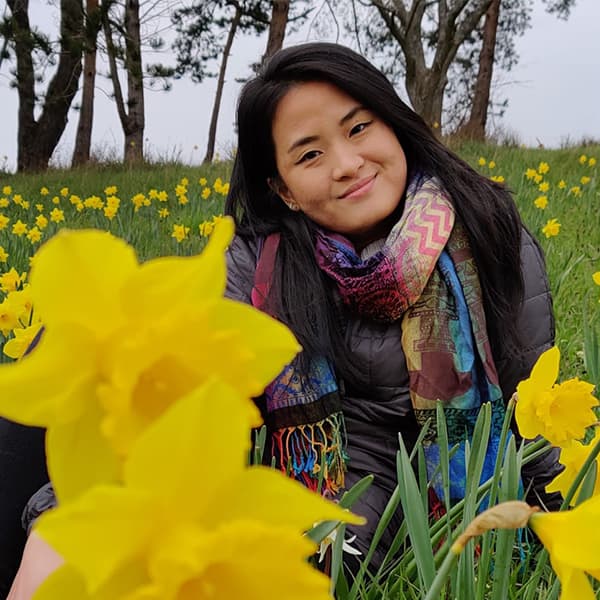 Have Questions? Let's Connect
Deandra Atmojo
Manager, Land-Based Education
(She/Her)
Deandra is a settler from Indonesia with mixed Chinese and Southeast Asian ancestry. She studied Natural Resources Conservation at UBC and leads the Nature Stewards program.