In this volunteer program, you'll develop skills in youth work and land-based education through training, mentorship, and hands-on experience helping to deliver our Nature Stewards programs alongside EYA staff.
Location
Strathcona Community Gardens (759 Malkin St) and Renfrew Ravine (3998 Renfrew St)

Program Dates
Group Training: June 3 & 4

Skill building workshops: Wednesday evenings June 7 - Aug 16

Supporting Program Delivery: weekly program support, 1 day/week 10:00 AM - 3:00 PM (days vary depending on the program you're supporting)

Eligibility
Youth ages 18-25 who identify as Indigenous, Black, People of Colour, LGBTQ2S+, living with a disability, or targeted by other forms of systemic oppression.

Supports
Bus tickets and lunch are provided.

Living stipend of $50/week is provided.
Frequently Asked Questions
Peer Mentors mentor and support youth in EYA's Nature Stewards programs.
Peer Mentors facilitate simple activities like 'plant of the day' with support from EYA educators.
Peer Mentors help EYA educators lead activities like seed harvesting.
Peer Mentors help to engage youth participants in program activities.
Peer Mentors lead and facilitate program activities that align with their learning objectives.
"I feel more prepared for a career in land-based facilitation. I've always wanted to work in the environmental education sector when I finish school and EYA exposed me to how the programs are designed and managed."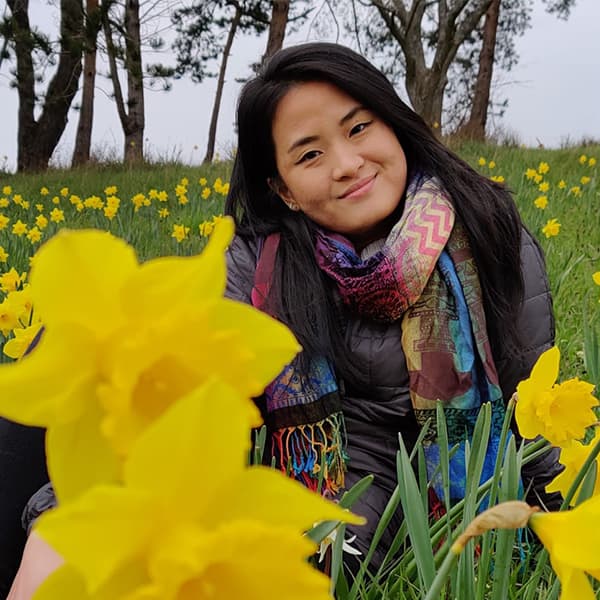 Have Questions? Let's Connect
Deandra Atmojo
Manager, Land-Based Education
(She/Her)
Deandra is a settler from Indonesia with mixed Chinese and Southeast Asian ancestry. She studied Natural Resources Conservation at UBC and leads the Nature Stewards program.