Community-led Urban Wetland Project
The project, in partnership with Strathcona Community Gardens, will increase climate resilience in the Downtown Eastside by creating a wetland ecosystem that will reduce flood risks, and increase biodiversity and Indigenous foodscapes.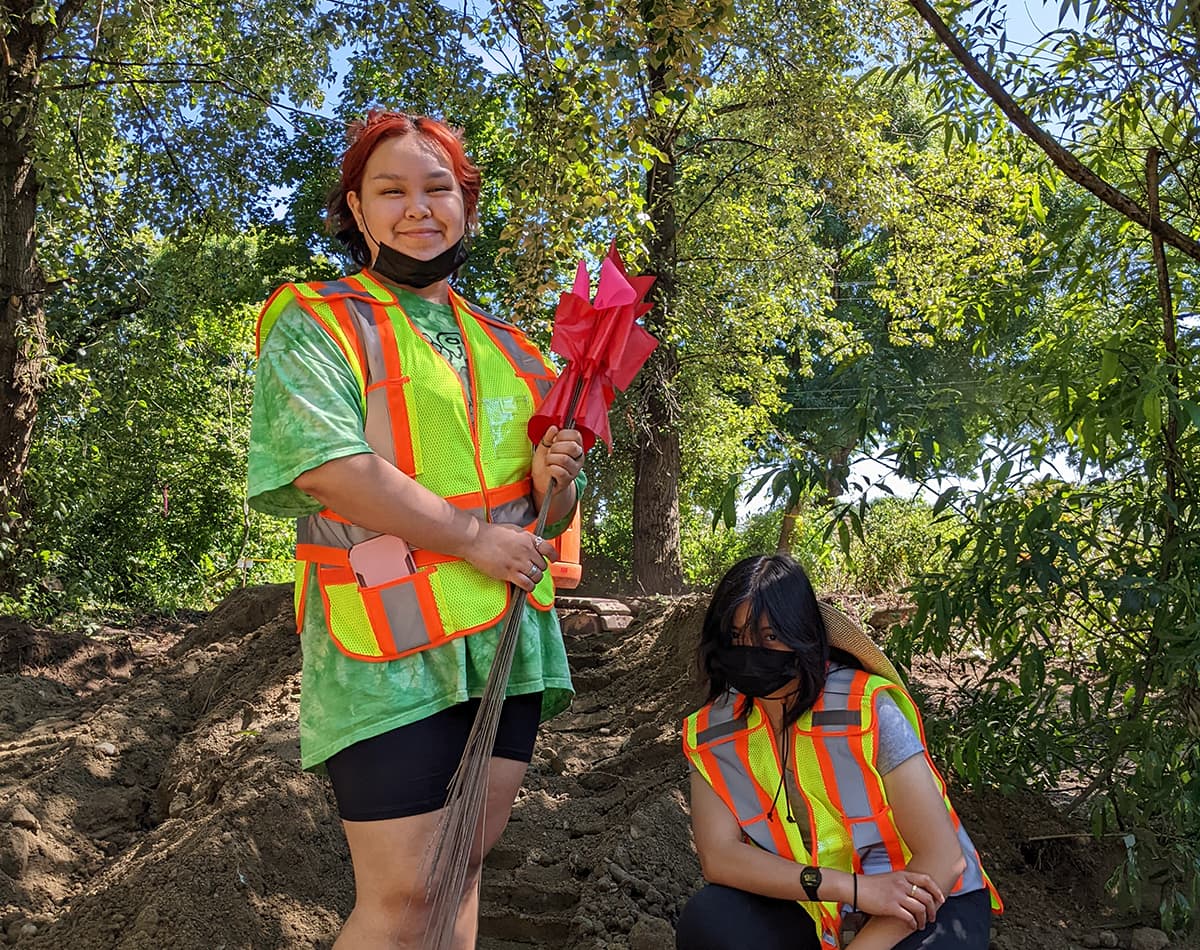 History
Prior to the arrival of European settler colonizers the planned wetland site was part of the tidal mudflats of northeast False Creek and partially below the high tide line. A stream also ran through the site, emptying into False Creek. In the 1910s, the tidal marshland and stream were covered with dirt and used as a city dump and sewer outfall.
Today, the area is home to Strathcona Community Gardens – a 1.34 hectare public green space located on the unceded traditional territories of the xʷməθkʷəy̓əm (Musqueam), Sḵwx̱wú7mesh (Squamish), and səl̓ílwətaɬ (Tsleil-Waututh) Nations, in the southeast corner of Vancouver's Downtown Eastside.
What is the issue?
The wetland site is a flood-prone corner of the Gardens that remains overgrown with Himalayan blackberry, yellow flag iris, bindweed, and other invasive plants. Despite community efforts to minimize flooding with a seasonal pond dug in the 1990s, the lack of multi-story vegetation and impermeable clay soil limits rainwater absorption and capture. Rainfall currently pools in the road picking up pollutants, and flowing straight into the piped stormwater system with little filtration. This is significant source of pollution impacting the health and water quality of surrounding freshwater and marine environments.
As a result of climate change, annual rainfall is increasing, along with the frequency of intense rain events like atmospheric rivers making these challenges worse.
The Wetland Project
Over the next two years, EYA youth, Strathcona Community Gardeners, and local residents have been developing a wetland including a pond and marsh buffered by riparian plant communities and fed by four bioswales to direct rainwater runoff into the wetland.
The pond and marsh will be planted with wetland plants native to the Pacific Northwest including various rushes, reeds, and sedges, hardhack, silverweed, cattail, wapato, goldenrod, and other native species. Many of the species planted have traditional cultural and medicinal uses and will support Indigenous foodscapes.
The wetland will be the only wetland in the Downtown Eastside, an area with little natural infrastructure and green space. This project works towards remediating the hydrology and ecosystems of this area that were destroyed by infill over 100 years ago. Our hope is that the wetland becomes part of a larger network of interconnected wetlands, swales, rain gardens, and daylighted streams in East Vancouver that absorb rainfall, reduce flooding, and increase climate resilience.